WINWINPOOLSHOP

WINWINPOOLSHOP Swimming pool equipment, filter pump, chlorine production machine, UV water system, mineral water system, solar energy system. Pool Accessories Imported from abroad. Please contact me more.

HOW TO OREDER

After the customer needs the product by searching the product and select the product you want, then press the order button.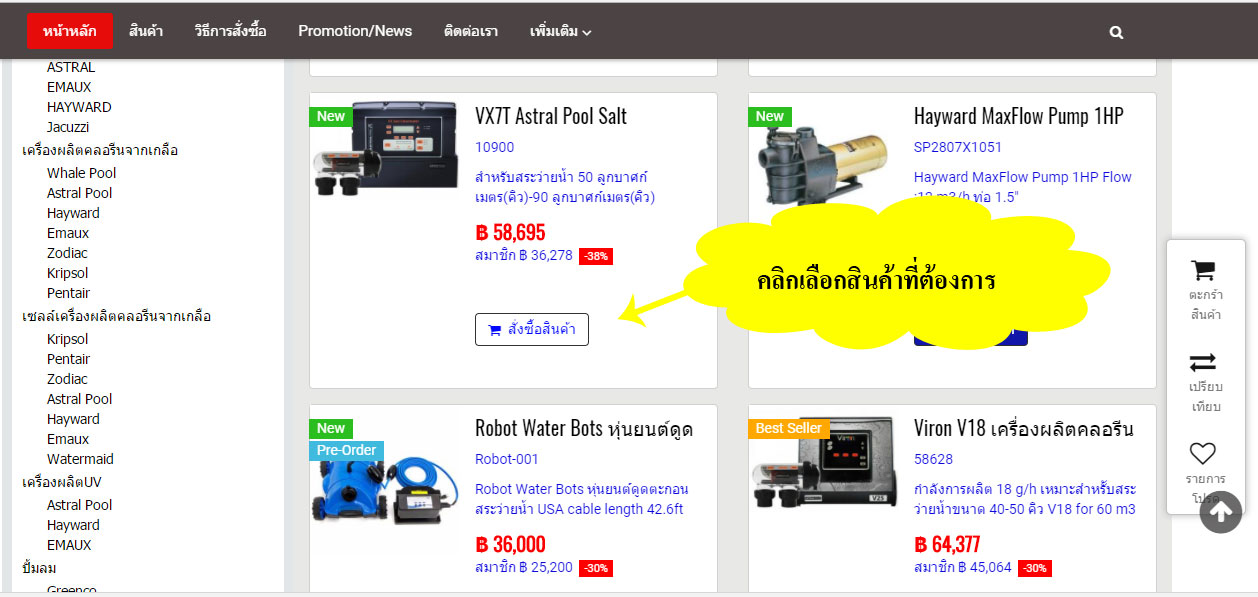 To pay Click the shopping cart button.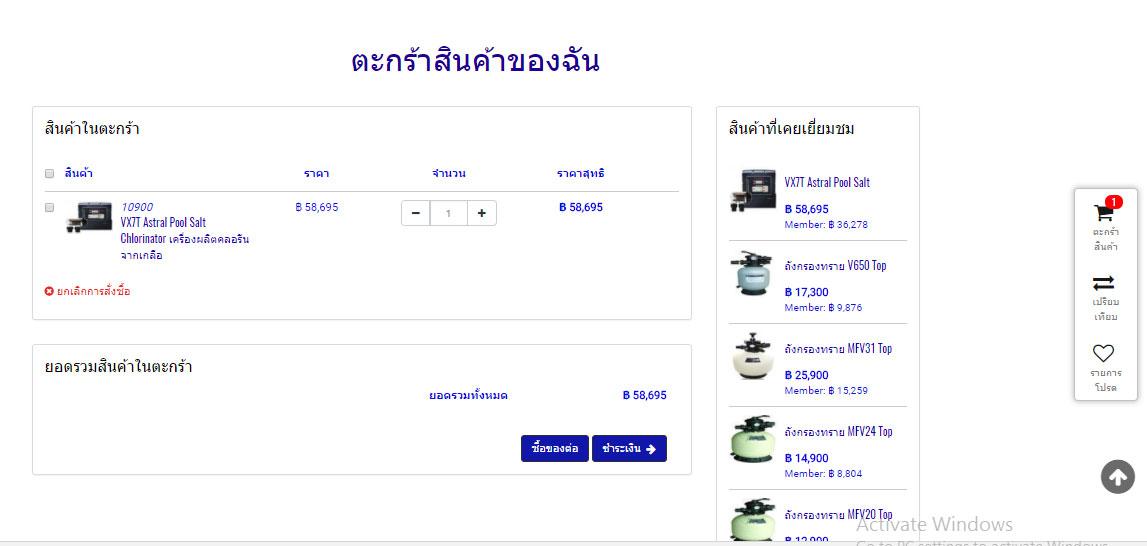 For more than 2 items, press the + button. To decrease the number, press the
- Click the Make Payment button.


Please fill in your Email and Password.
If you are not a member, please sign up by clicking the button below.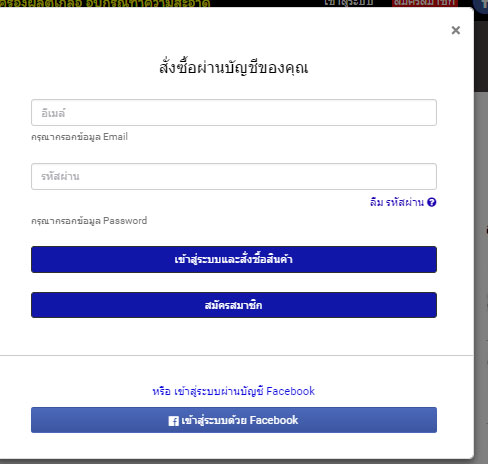 Register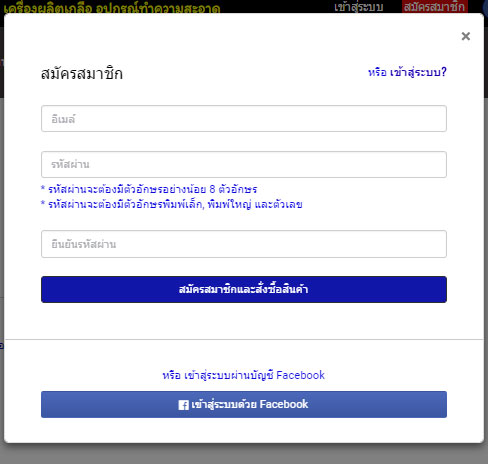 When applying for or entering the correct email and password, the following screen will appear:

Give customers
1. Check the address. The phone number is correct.
2. Choose a payment type.
3. Check the product and choose the shipping method.
4. Confirm the order.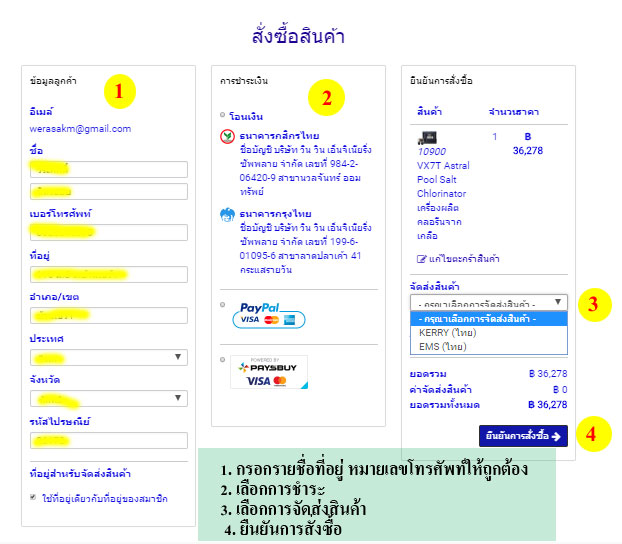 เมื่อต้องกาชำระเงืน กดปุ่ม ชำระเงิน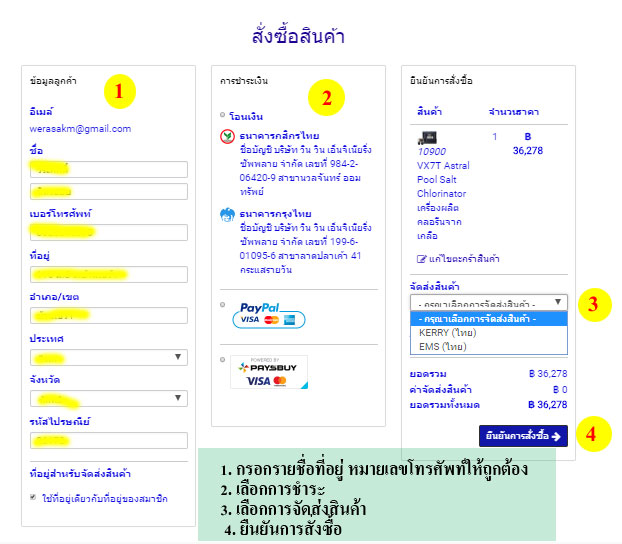 When you press the order confirmation button. The following screen will appear: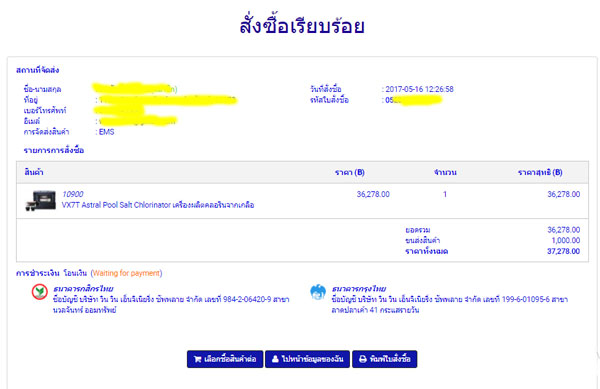 Then the system will notify the order to the company. And pay customers.
The selected payment types, such as bank account payments. It can be paid.


Kasikorn Bank Account Name: Winwin Engineering Co., Ltd. Supply Limited
No. 984-2-06420-9 Nuanchan Saving



Krung Thai Bank Account Name Winwin Engineering Supply Co., Ltd.
No.199-6-01095-6 Ladprao Branch, 41 streams daily




หลังจากชำระเงินเสร็จ
โปรดแจ้งข้อมูลให้บริษัท โดยคลิกที่ http://www.winwinpoolshop.com/informpayment
หรือ เมนูแจ้งชำระเงิน

จะปรากฎหน้าจอดังนี้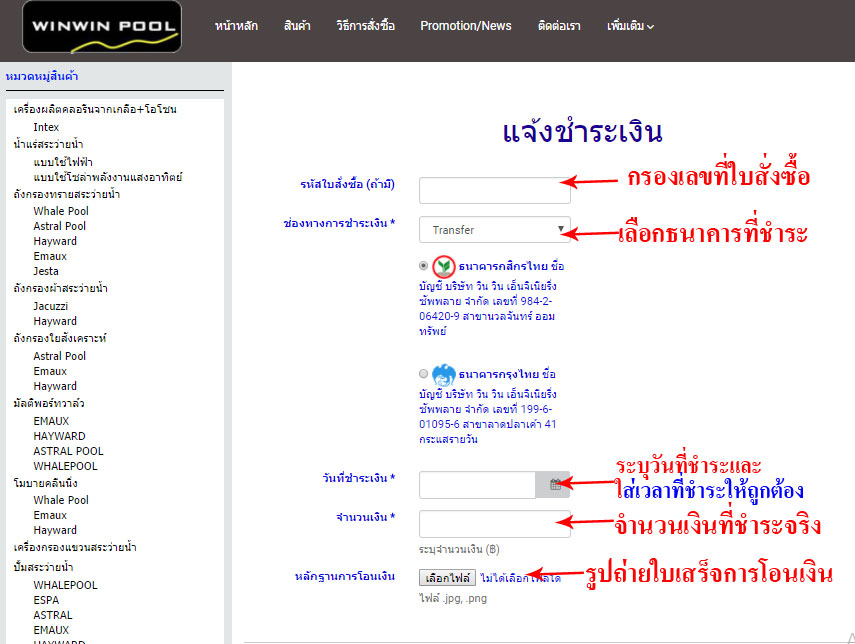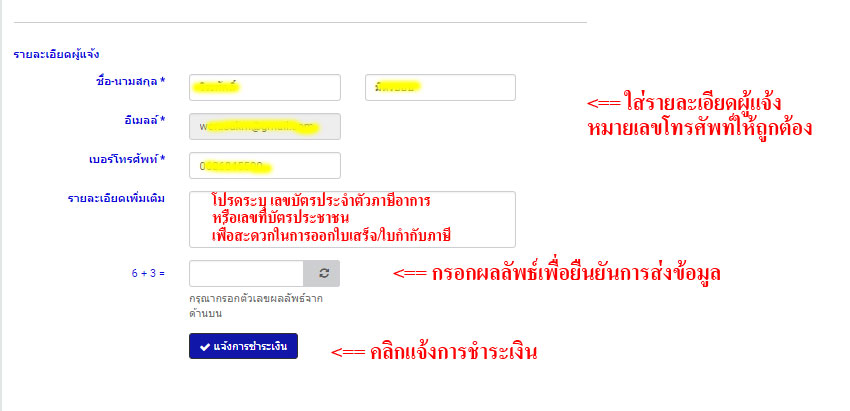 เสร็จขั้นตอนการสั่งซื้อ

วิธีการและระยะเวลาการจัดส่ง

- เมื่อได้รับการยืนยันการชำระเงินเป็นที่เรียบร้อย ทางบริษัทจะจัดเตรียมสินค้าพร้อมส่งภายใน 5 วันทำการ
(ไม่รวมวันเสาร์ อาทิตย์ และวันหยุดนักขัตฤกษ์)
- พื้นที่ต่างจังหวัด ทางบริษัทจะจัดส่งสินค้าให้ใน 5-7 วันทำการ
- บริษัทอาจมีการปรับเปลี่ยนรายละเอียดการจัดส่งสินค้าตามความจำเป็น ซึ่งจะแจ้งให้ทราบล่วงหน้าเป็นครั้งๆ